We love the culture and people of Bretagne, but the rain day after day got to be a bit much. One very accurate postcard said (in French) "it is beautiful in Bretagne, several times a day."  Most of the time it was in fact quite nice and the weather warm and it what is beautiful weather.  But two or three times a day there would be a rainstorm of varying degrees — sometimes just a late missed that wasnt quite rain, but other times outright  rainstorms. We started to feel like we were always putting on or taking off rain gear, and always hanging up half of our clothes to dry at night.  So we headed south, first to Bordeaux and then from there to Dordogne.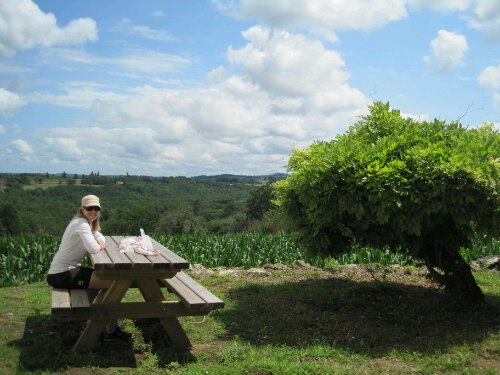 Picnic in Dordogne.
This only partly ameliorated the rain issue. We got in a couple of beautiful days of bike riding, but still got rained on — particularly on the first night in Dordongne, when we were rained on with a giant thunderstorm. Suzanne's tent held up admirably.
Within Dordogne we went by many old caves with prehistoric paintings. However, we were not able to visit any of them, because they have very limited tickets per day to preserve the paintings; and there were hordes of tourists. But many of the more interesting sites we were able to see it from the road, including many castles that were built into the sides of the limestone cliffs.
We spent a layover day in Sarlat, a town famous for its well preserved medieval buildings. However, it was also cursed with you hordes of tourists. Despite them, it managed to maintain some of its quaintness, and there were lots of good and reasonably priced restaurants. We also experienced for the first time four-star camping, which we liked — it was scenic with more trees and larger campsites than other places.
Next week we are off for points its further east, to provence and the mediterranean coast.