From Strasbourg, we headed across the Rhine river, into Germany. This was the first time that we were biking across a national border – all the other times we crossed the border by train. Since it was entirely within the EU, though, it was pretty boring; there wasn't even a "Welcome to Germany" sign. We were looking for the route along the Rhine, supposedly signed as EuroVelo 15, that goes all the way from Switzerland to the North Sea. Finding it from the bridge was a bit tricky, but by heading south along the river and looking around, we eventually managed to link up with it; the signs were less clear (often just a green bike on a white background) as opposed to Switzerland where they were Eurovelo logos.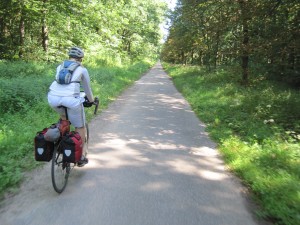 Biking north from Karlsruhe.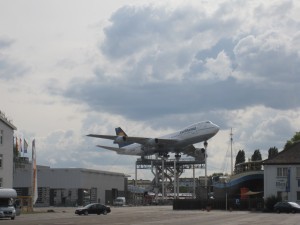 Lufthansa 747 on the roof of the Karlsruhe Technology museum.
The most famous part of the Rhine is the so-called "Romantic Rhine" that stretches from Mainz to Koblenz, about 65km. Since we had more time, we rode from further south (Strasbourg) to further north (Bonn). In some ways, the southern section was actually more romantic than the "Romantic Rhine", since it was less swarmed with tourists. Karlsruhe and Speyer were nice mid-sized cities that were friendly and unpretentious. In Karlsruhe, we enjoyed biking almost into the center of town on a forested bike path, and also staying in a very well designed hotel room, complete with tree trunks and forest wall paper. Speyer had a very interesting-looking technology museum; we didn't get to go inside, but seeing the 747 on the roof was impressive enough.
We also found some of the most amazing bike paths of the trip. Heading north from Karlsruhe, we were on a strip of pavement going through dense forest for about twenty miles. Elsewhere along the route we were similarly on paths that went through beautiful leafy forests with very few people around – maybe one bicyclist or pedestrian every half hour. We rode our longest day, from Speyer to Mainz, on a series of great-looking path segments, mostly through forests and occasionally peeking out along the Rhine itself. When we were alongside the river, we were often impressed at how it was full of shipping – long barges carrying coal or shipping containers. Although shipping barges don't sound scenic, they give the Rhine a grounding, a working river as well as a pretty river. The barges also go at about the same speed as a bike, so it's possible to pretend you're racing against them.
The Romantic Rhine, despite lots of tourists, managed to still be pretty romantic. The walls of the Rhine Valley become very steep. This geography was exploited in the Middle Ages by various robber barons who built fortresses to tax traffic going up and down the river. In St. Goar, we stopped to wander through the byzantine hallways, passageways, tunnels, and chambers of Burg Rheinfels, just to make sure we managed to take in a bit of history along the way.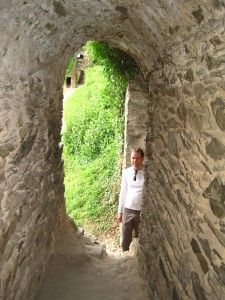 Although there were large groups of tourists along the Romantic Rhine, we were happy to see that a lot of them were also on bicycles. The majority of the bicyclists were older than us, and most seemed to have a minimum of luggage – likely either on supported tours or on "credit-card touring". This made us happy, since we enjoy bike touring a lot and it is great to see it is something we might be able to keep doing for a long time.
The north end of the Romantic Rhine is, unsurprisingly, in northern Germany. So are a lot of Suzanne's relatives and family friends, which are clustered around Mölln, where Suzanne's mom was raised. The Rhine itself keeps on trucking through the urban northeast (Bonn, Köln, Düsseldorf, and other medium-sized cities) and into the Netherlands, reaching the North Sea at Rotterdam. But we stopped at Bonn, catching a train to Hanover.
In Hanover, we stayed with Christensen family friends, whom Suzanne frequently visited for summers when she was a teenager. Starting at the age of 12, she would stay with them and babysit their two daughters. It's been almost a couple of decades since then, so the daughters are full-grown, and one of them took us to the Lake Maschsee Festival (Maschseefest). She also showed us the Hanoverian tradition of the Lüttje Lage, which involves drinking schnaps and beer in a pair of shot glasses held so that they cascade – the schnaps pouring into the beer, and the mixture pouring into one's mouth. It requires a bit of coordination to avoid pouring anything down your face or into your nose. However, we had expert instruction and multiple chances to practice, since it is usually ordered as a "meter" – 22 shot glasses in all, which when lined up are a meter long.
From Hanover, we headed to Lüneburg, a small, pleasant city where one of Suzanne's cousins lives; and then another day of biking to Mölln, where we stayed with Suzanne's uncle Gunther. Gunther took us out to an excellent fish dinner (Mölln is known for the many freshwater lakes surrounding it) and to see the town of Mölln where Suzanne had spent many childhood summers. We paid a visit to the statue of Till Eulenspiegel, a legendary clown or jester from the middle ages, and the mascot of sorts for Mölln.
With the whirlwind of family visits almost over, we realized that the trip was almost over as well. But we still had a few days left of biking, and we particularly tried to savor them, knowing that we would be in Denmark (where we were not planning to do any biking) in a few days, and back in California within a week. We stopped in Lubeck, famous as the historical capital of the Hanseatic League. Lubeck was the last German city we saw, since the last few hundred kilometers to the ferry to Denmark were more sparsely inhabited. We went up the coast of the Baltic Sea north of Lubeck, through little seaside resort towns: Gromitz, Kellenheusen, Dahme, and a few others. They were all seaside resorts on a cold sea – windswept and beautiful, but with a climate that you really have to be from Northern Germany to love. It was like being back in Bretagne again: wildly variable weather, sunny one moment, raining the next, and with stiff winds that shifted throughout the day. Fortunately we frequently had a tailwind pushing us northward, and that made our days go by quickly. Scandinavian influence stared to show up in the architecture of the houses. And despite our best efforts to savor every moment, we eventually reached Puttgarden for the ferry to Denmark.