In 2002, a young Suzanne Christensen Morris, just graduated from UC Davis, headed to France looking for adventure. Keen to be close to her German roots, she chose to move to Strasbourg in Alsace, on the border with Germany. After a few weeks of hard searching for a job and a place to live, she found an amazing apartment in a building owned by a friendly family, and a job as a test-baker for Ancel (now "Dr. Oetker"), which is sort of like the Betty Crocker of continental Europe. She stayed for a year, and the process made a bunch of friends, and developed a deep affection, or perhaps addiction is the better word, for tarte flambée (flammenkuchen in German), a pizza-like concoction with a thinner crust usually garnished with cream, onions, thick-cut bacon, and sometimes cheese. So Strasbourg was a must-stop location for us on this trip.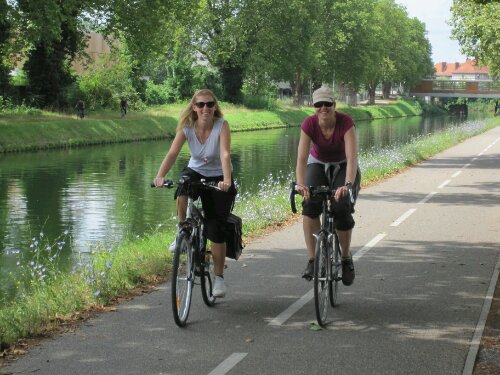 Biking on Strasbourg's bike paths with Julie.
We stayed first with Julie, a former Ancel co-worker, and her boyfriend Hubert, who live just on the outside of Strasbourg. We biked around Strasbourg with them, and then went to Julie's parents' house for the evening, an event that Suzanne had been talking about for months. Julie's father, Jean-Michel is a brewer for Kronenbourg, and more importantly he fabricated his own tarte flambée oven. The end product was as good as Suzanne remembered it (and as good as Joe thought it ought to be given how much Suzanne had been talking about it). The crust is thinner than the thinnest pizza crust, but with more of a buttery flavor and a light hint of nutmeg. It is cooked in a wood fired oven, designed such that the flames both heat the tarte from below and above; there is a slot at the back of the oven and a curved plate so that a sheet of flames shoots over the top of the tarte. Jean-Michel also had a CO2-pressurized, refrigerated (not the keg itself, but heat exchanger coils) tap of a traditional Alsatian lager, brewed at Kronenbourg for its employees but not for sale.
We also stopped in at Suzanne's old apartment in Strasbourg. Suzanne had met the landlady, Jeni, when the bus they were riding broke down (in the rain) and Suzanne started telling her about her difficulties in finding a place to stay. Jeni liked Suzanne and offered her the apartment in the top floor of their building, which was furnished and quite nice. Ten years later, Jeni said that she hadn't rented it to anyone after Suzanne because she didn't think she would be able to find such a nice tenant. Jeni's daughter, Noemi, had also had a child, whom Suzanne was happy to meet.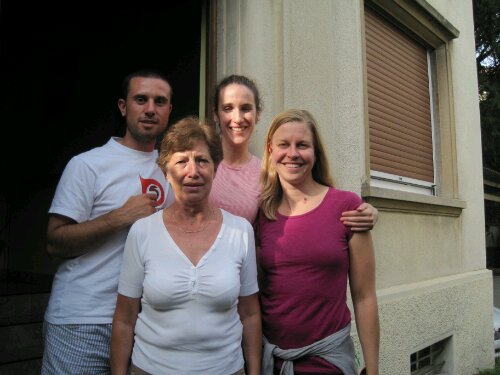 After visiting Julie and her parents, we headed out to the small town of Munster to the southwest, near the city of Colmar, to visit another Ancel co-worker, her husband, and their toddler whom Suzanne also hadn't yet met. Munster is the town that gives its name to Munster cheese, and we had it several times while there. They took us to a mountaintop restaurant where the dessert was day-old Munster, and then the next morning we had a brunch consisting of salad, potatoes, and Munster; the latter was simple but very excellent because the cheese was so good.
From Munster, we went back to Strasbourg by train, and then biked into Germany, out first time on this trip (and Joe's first ever time) biking across a national border. Since it's inside the EU, it was pretty boring; there wasn't even a "Welcome to Deutschland" sign. From the border, after a bit of searching around, we found the bike route running along the west bank of the Rhine.