After a huge overnight raimstorm that we were very happy did not occur while we were biking, we left the charming seaside resort of Dungarvan for Cork, Ireland's second city and the jumping off point for our ferry to France.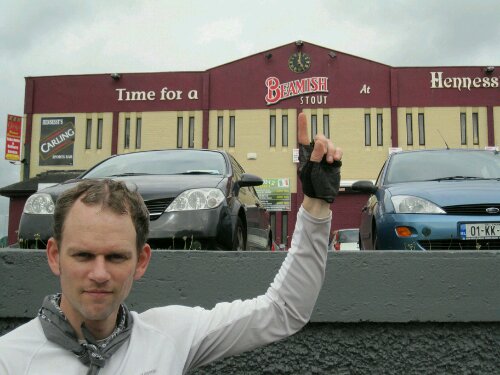 Time to find pints of Beamish, one of Corks native stouts, to celebrate a good start of our honeymoon in Ireland.
This was a mostly unremarkable section of the trip, except that we started to feel stronger from a few days of cycling, and started to really feel like we were on vacation, forgetting the worries of normal life. We started to see more signs in the Irish language, and passed by one all-Irish-language school (we guessed from the all-irish sign and confirmed with our B&B host in Cork). We came upon the coast. While not as dramatic as the southwest, it was still extremely scenic.
In Cork, we stayed at the B&B of the lovely Breeda Higgins, on Church Street. We would happily stay there again as it was the best B&B of our stay in Ireland.
After a minor incident of losing out lock — dropped on the pavement somewhere — we got on the ferry from Ringaskiddy, just outside Cork, to Roscoff, Bretagne, France.