Yesterday we camped in a fishing park outside the town of Ballinakill.  The day before, our first day out of Dublin, we went about 60 km, stopping at Moate Lodge next to Moate Altscull.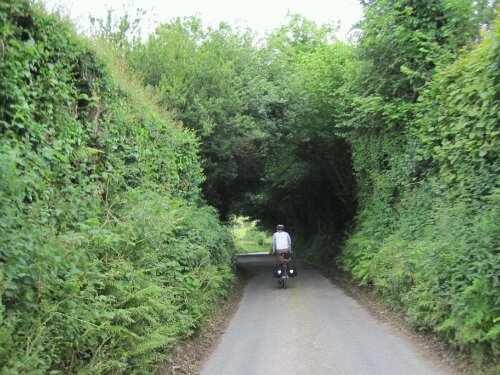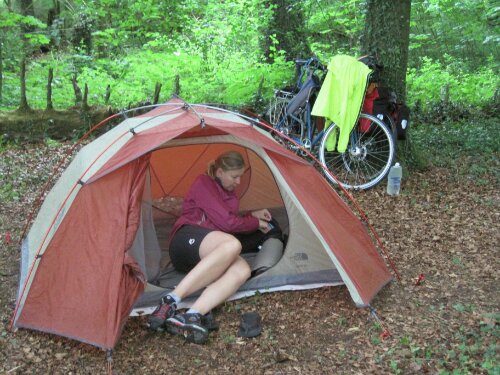 Yesterday, our second real day of biking, we rode 52 kilometers to Ballinakill. It is a neat little park, suggested as a camping spot by a very Irish looking man with a wool cap in town. We ate at the only joint in town, run by a couple of Pakistani guys who seemed very happy to talk to a couole of americans from California – without us asking, they kept giving us free food and a discount on the bill.  Tomorrow we head off towards Kilkenny and somewhere past it towards Cork. Everything is well; the weather has been mostly good, and the Irish as outgoing and garrulous as they are rumored to be. It seems like we cannot stop and look at the map for more than two minutes without someone stopping to ask if we need help, and then usually sticking around to tell a story.  Yesterday we met, in this manner, an Irishman who spent several years in Southern Lake Tahoe; it seemed strange to be discussing the relative merits of Homewood and Kirkwood on a small country road in Ireland. 
Today we went from Ballinakill to Kells, 59km. Kells is where the book of Kells was for some of its history, although it is now in Dublin. The priory here is very large, several acres it looks like, and we will visit it tomorrow morning. It rained on plus overnight sober stayed in our tent until a bit later, to stay dry. We had a good day, with intermittent rain — it only seems to rain long enough for us to put on raingear, and then it is very sunny. Tomorrow we are off for Dungarvan although not sure we will make it all the way there in a day.
As a final note, some pictures from Dublin didn't make it to the website (lame Flickr app only lets you add to sets when uploading). They can be seen on my Flickr photostream at
http://www.flickr.com/photos/xenotropic