From Strasbourg, we headed across the Rhine river, into Germany. This was the first time that we were biking across a national border – all the other times we crossed the border by train. Since it was entirely within the EU, though, it was pretty boring; there wasn't even a "Welcome to Germany" sign. We were looking for the route along the Rhine, supposedly signed as EuroVelo 15, that goes all the way from Switzerland to the North Sea. Finding it from the bridge was a bit tricky, but by heading south along the river and looking around, we eventually managed to link up with it; the signs were less clear (often just a green bike on a white background) as opposed to Switzerland where they were Eurovelo logos.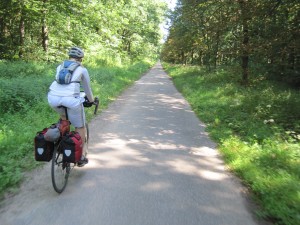 Biking north from Karlsruhe.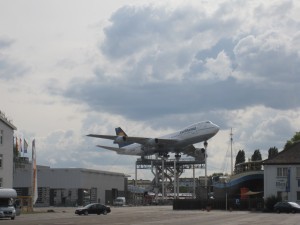 Lufthansa 747 on the roof of the Karlsruhe Technology museum.