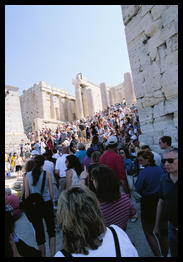 I met several of my friends in Athens; I flew in from Cairo, and the four of them came one each from San Francisco, Denver, New York, and Boston. &nbsp Magically, we all made it more or less on time and met in the airport as we had previously arranged. &nbsp

Parts of Athens were entertaining, such as the bizouki bars where they serve you Guinness in a wine glass. &nbsp But for the most part, this image carries the spirit of the city pretty well -- zillions of tourists. &nbsp It was as if everyone who had put off their vacations to the Middle East due to violence had all decided to visit the Parthenon. &nbsp Unfortunately, I think it's always this way.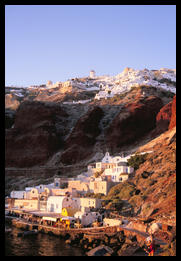 Santorini is the classic "Greek Island" with blue domed churches and crystalline waters. &nbsp The hora, or main town, is called Fira, and it was overrun with boutique shops and tourist services. &nbsp Oia, in the north, is the second largest town, and is not much better.

Our fearless Greek-blooded leader, Elena, had the wisdom to choose to stay in the little fishing village below Oia, which is called Ammoudi; it consists of a few homes, four restaurants that serve fish and traditional Greek appetizers, and one "traditional hotel" I think they called it, which is where we stayed. &nbsp We basically got a traditionally decorated two bedroom apartment, which was about $110/night split among five people. &nbsp It was pretty nice.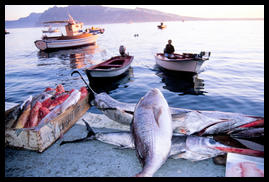 Normally I don't eat fish, but the freshly caught fish being hauled up onto the dock, straight out of the Aegean, were too much to resist.

When you are in one of the Ammoudi fish restaurants (the yellow one on the end is the best), and ask what fish they would recommend, and they would simply invite you to come take a look at what was sitting on ice in the kitchen.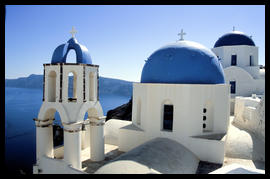 One of the ubiquitous blue domed churches. &nbsp Evidently it was a sign of a family's wealth to have your own church, and so they proliferated extensively. &nbsp I don't know how many churches there were in Oia (a town of perhaps a thousand year-round residents), but I would guess it was around two or three dozen.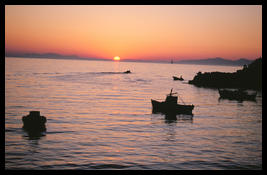 Sunset on Santorini. &nbsp After several days of eating fish and soaking up colorful houses, we packed up and caught a plane to Mykonos.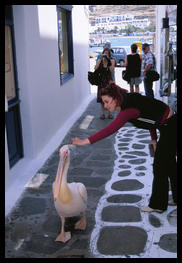 Mykonos is famous for it's two very friendly pelicans, often seen ambling about the waterfront area.